The TONA T20/40 SUT step-up transformer, is targeted enthusiasts and intended for moving-coil type cartridges. These traditionally provide a very low signal, and are difficult to amplify without noise.
The transformer is a match for tube amplifiers, as the very high gain at 1:40 can be an advantage. Can also be used with a (tube) RIAA with a good dynamic range at high levels.
At the same time, 1:20 with a more all-round gain, is usable for most cartridges with a higher output.
Tona T 20/40 has two separate inputs with completely separate windings on the primary side.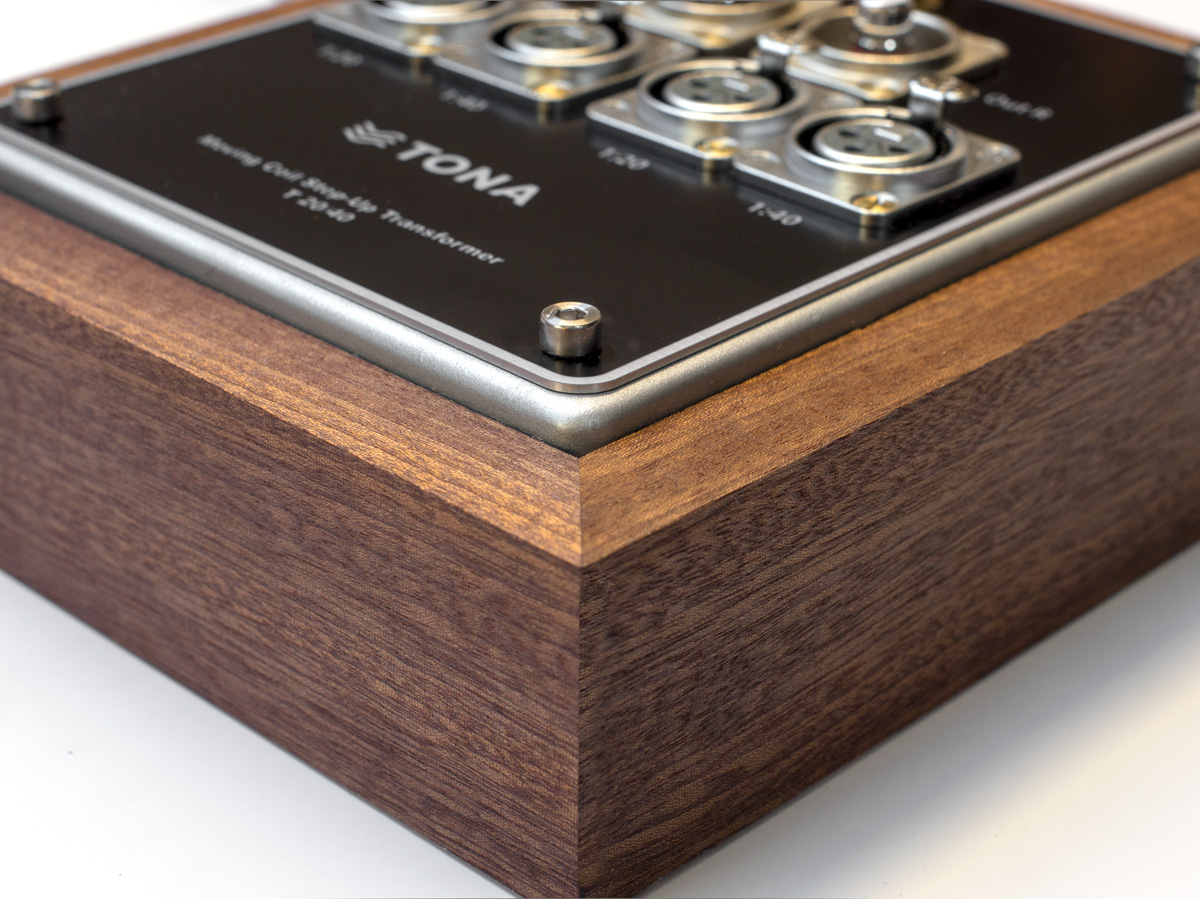 Specifications
• Developed in-house in Aarhus, Denmark with Gyraf Audio, maker of high end tube audio equipment for the professional market
• Two inputs 1:20 and 1:40
• Mahogany, oak or custom RAL color options
• Connectors can be customized as well the choice of balanced / unbalanced operation
(contact Sallingboe Audio for further details)
• Laminated soft iron case with 8 to 20 mm overall thickness
• Toroidal nanocrystalline transformers wound inhouse.
• The transformers are induction matched in stereo pairs before and after winding
• Matched in stereo within 0.2 dB from 20Hz-20kHz
• -3dB at 4 Hz and 60 kHz (measured with 4Ω cartridge output)
• Hand wired litz primary windings, (the technique involves a very strong force, that can only be applied by hand)
• Stable heavy base accepts all XLR and RCA cables
• 2 years warranty
Connectors
Gold plated RCA connectors.
Silver plated XLR connectors.
Special configurations are possible with custom choice of connectors.
Contact Sallingboe Audio for further details.
Design variations

| | |
| --- | --- |
| | |
| Mahogany | Oak |
| | | | |
| --- | --- | --- | --- |
| 8003 | 2009 | 1518 | 6005 |
| 6018 | 7016 | 7035 | 7042 |
| 3020 | 1512 | 5002 | 4010 |
| 4006 | 4005 | 3015 | 3003 |
| 8002 | 9005 | 9010 | |
Dimensions
125 x 150 x 50 mm 4.9″ x 5.9″ x 1.96″ without frame
159 x 184 x 50 mm 6.25″ x 7.25″ x 1.96″ with frame
Total height: 63 mm 2.48″
Weight: 4.6 Kg 10 lbs