Tona T20/40 – MC Step-Up Transformer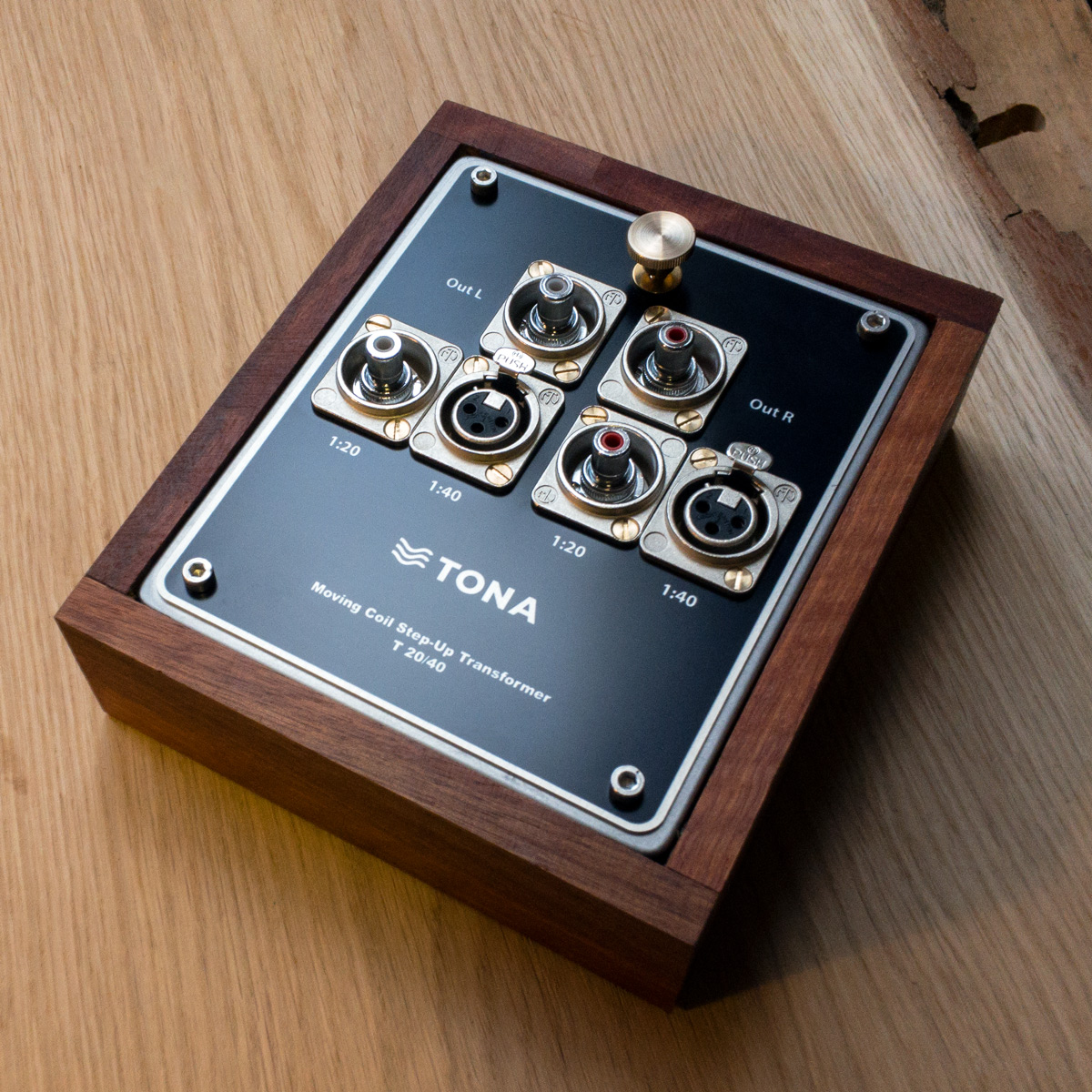 TONA T 20/40 step-up transformer SUT is targeted enthusiasts and intended for Moving-Coil type  cartridges. These traditionally provide a very low signal, and are difficult to amplify without noise.
The TONA T 20/40 step-up transformer is a match for tube amplifiers, as the very high gain at 1:40 can be an advantage at low volume, and can also be used with a (tube) MM RIAA with a good dynamic range at high levels.
At the same time, 1:20 with a more all-round 26dB gain instead of 31dB, is usable for most cartridges with low output.
Since the T 20/40 has two separate inputs with separate windings on the primary side, they can be used independently for two tone arms.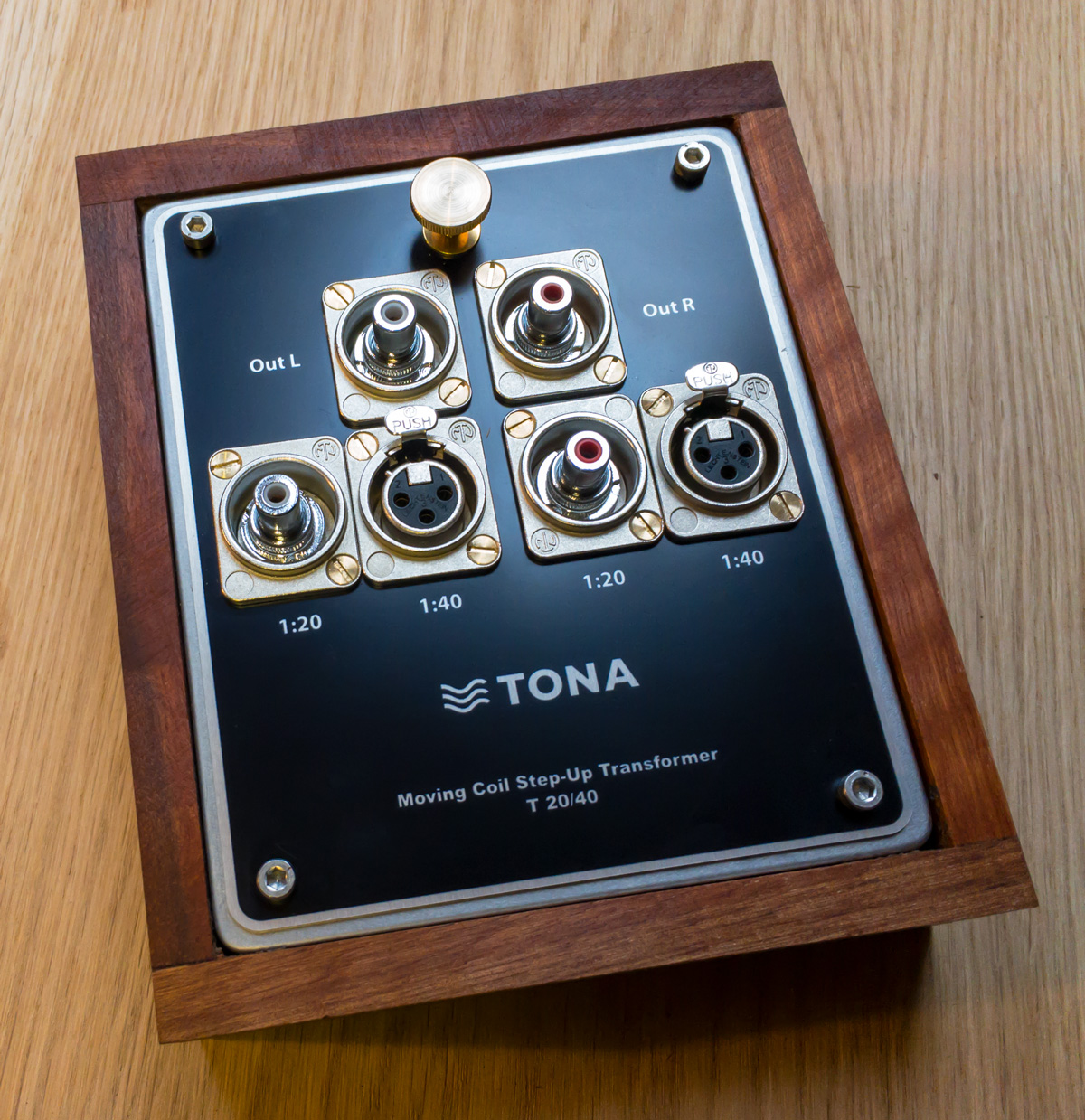 ---
Specifications
• Two inputs 1:20 and 1:40
• Specify balanced (XLR) or ubalanced/balanced (RCA) when ordering
• Laminated soft iron case with 8 to 20 mm overall thickness
• Wideband toroidal nanocrystalline transformers wound inhouse
• Primary resistance 0.1 Ω (1:40)
• Secondary resistance 30 Ω (1:40)
• The transformers are induction matched in stereo pairs before winding
• Low noise and wide frequency spectrum (5Hz-100kHz -3dB at 4Ω/20KΩ).
• Phase linearity 0.9 degree at 20kHz
• Matched in stereo 0.3 dB 20Hz-20kHz
• Litz primary winding
• Connectors : Rhodium plated RCA connectors, gold plated XLR connectors
• Non vibration dampening material floats the transformers
• Stable heavy base accepts all XLR and RCA cables
• Including solid mahogany case, that can be placed on the wall.
• Demagnitized before shipping
• CE and ROHS approved
• 2 years warranty
• Hand made in Aarhus, Denmark
Dimensions 125 x 150 x 46 mm 4.9″ x 5.9″ x 1.8″
Total height 63 mm 2.48″
Weight 4.1 Kg 9 lbs
Delivery time 1-2 weeks.
Suggested retail price 3.500 USD / 3.000 EUR
Distribution
---
Examples of ratios available with a 47KΩ MM phonostage
| | | |
| --- | --- | --- |
| Cartridge see this load in Ohm | Turns Ratio 1: | Max possible gain in dB |
| 30 | 40 | 31,9 |
| 35 | 37 | 31,3 |
| 40 | 34 | 30,7 |
| 45 | 32 | 30,2 |
| 50 | 31 | 29,7 |
| 60 | 28 | 28,9 |
| 70 | 26 | 28,3 |
| 80 | 24 | 27,7 |
| 90 | 23 | 27,2 |
| 100 | 22 | 28,9 |
| 120 | 20 | 25,9 |
| 140 | 18 | 25,3 |
| 160 | 17 | 24,7 |
| 180 | 16 | 24,2 |
| 200 | 15 | 23,7 |
| 250 | 14 | 22,7 |
| 300 | 13 | 21,9 |
| 325 | 12 | 21,6 |
| 475 | 10 | 20 |
1:40
Frequency response 4Ω/20KΩ (-60DBFS +13dBu) -3dB: 5Hz – 100kHz
Phase deviation 20Khz: 0.9 degree
Channel separation: 120dB
Stereo channel balance: 0.3dB (20Hz-20kHz)